I've been doing a lot of electrical work the last few days…so much that even I'm wondering if I'm qualified to do this! :) Seriously, electrical is serious stuff.
Pulling the Romex (the big yellow cables with electrical wires inside) through the ceiling and walls required no particular skill.
After that, I started making pigtails, wiring electrical sockets and switches. Wiring these was not too difficult and was actually fun to do once I got the hang of it.
We will have something like 60 outlets. I think it will be the first house I've ever lived in that has enough outlets and network ports.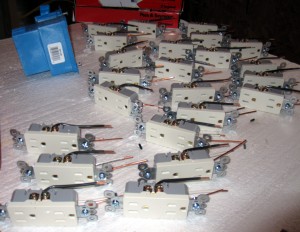 Then, today, I got to start hooking the outlets into the wiring coming out of the walls. This was not only difficult, but seemed like serious stuff. You have to strip all the Romex coming out of the wall and then connect the similar colors (e.g. the black wires from all three wires) into a push-in wire connector. These are new things that you use instead of wire nuts. They are much more reliable, because once a wire goes in, it can't come out. However, it is very difficult to get all those wires into their little tiny holes. And God help us when we have to stuff all this into the socket boxes!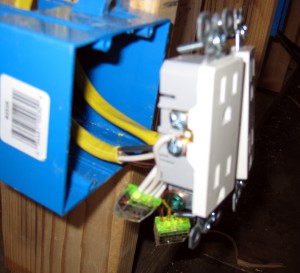 After I got a half dozen or so of these wired up, Brad said he wanted to test them. Prior to this, we didn't have any electricity "live." I was not eager to to this. Since we haven't pulled the cable from the battery house to the house yet, Brad had to rig up a power cable into the main power box, where he turned on the breaker for the first circuit I wired. Then we went to plug the tester in. The moment of truth… Success! Yay!