January, 2016
...now browsing by month
Wednesday, January 6th, 2016
Monday, January 4th, 2016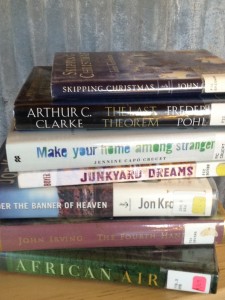 A couple years ago I started doing a personal annual review in the style of Chris Guillebeau. Basically, it's an end of year reflection on what went well and what didn't over the year, followed up by setting some goals for the upcoming year. I've found it a useful process, especially as I've diversified the way I spend my time such that the normal professional measures don't apply as much.
While I don't publish all of this publicly, I did want to share one part this year.
Last year, I set a goal to read more. I didn't have any idea how many books it would be reasonable for me to read in a year, but I set a goal of 50. Mid-year, I realized this was a pretty high goal that I most likely wouldn't get close to. But then as the year went by, my reading rate accelerated, in no small part due to the fact that I was actually keeping track.
In the end, I read 51 books in 2015. The list is below, with those I'd especially recommend in bold. (And most of the books on the list are quite good; really, there are only a couple I wouldn't recommend.)
Reading was one of several things I turned to this year when things weren't going well otherwise. Other things included baking bread, gardening, sitting in the sun, walking, and writing letters. So when the depressing world news got to be too much or a conference call that had been difficult to schedule was cancelled at the last minute or someone said something mean or I just otherwise felt bummed, I tried to turn to one of these things. I think my overall health benefited from this.
And I read some great books.
Everybody Matters by Mary Robinson
Mindfulness by Mark Williams and Danny Penman 
The Importance of a Piece of Paper by Jimmy Santiago Baca
Unaccustomed Earth by Jhumpa Lahiri
Mr. Mercedes by Stephen King
Border Patrol Nation by Todd Miller
A Lost Lady by Willa Cather
The Professor's House by Willa Cather
Death Comes for the Archbishop by Willa Cather
Lucy Gayheart by Willa Cather
Sycamore Row by John Grisham
Legal Research Explained by Deborah E. Bouchoux
Shantaram by Gregory David Roberts
The Clan of the Cave Bear by Jean Auel
Behind the Beautiful Forevers by Katherine Boo
Flight Behavior by Barbara Kingsolver
The Unlikely Pilgrimage of Harold Fry by Rachel Joyce
How to be Both by Ali Smith
To Animas With Love by Carol Smith
Lost and Found by Brooke Davis
The Bestseller by Olivia Goldsmith
Perfect by by Rachel Joyce
A Year and a Day on Just a Few Acres by Peter Larson
The Stranger by Harlan Coben
We Are All Completely Beside Ourselves by Karen Joy Fowler 
The Love Song of Queenie Hennessy by Rachel Joyce
Curriculum Integration: Designing the Core of Democratic Education by James A Beane
The Half Brother by Holly LeCraw
Wit's End by Karen Joy Fowler
Seveneves by Neal Stephenson
The Valley of Amazement by Amy Tan
The Liar's Club by Mary Karr
Reamde by Neal Stephenson
Cherry by Mary Karr
The Fourth Hand by John Irving
Under the Banner of Heaven by Jon Krakauer
Junkyard Dreams by Jeanette Boyer
Make Your Home Among Strangers by Jennine Capo Crucet
The Last Theorem by Arthur C Clarke and Frederik Pohl
African Air by George Steinmetz
Skipping Christmas by John Grisham
Tribes by Seth Godin
The Last Juror by John Grisham
In Thin Air by Jon Krakauer
All My Puny Sorrows by Miriam Toews
God Help the Child by Toni Morrison
Kitchens of the Great Midwest by  J. Ryan Stradal
The Buried Giant by Kazuo Ishiguro
A Complicated Kindness by Miriam Toews
To a Mountain in Tibet by Colin Thubron
Let Me Explain You by Annie Liontas