Planted in the greenhouse March 18, 2010:
Planted in flats inside March 21, 2010: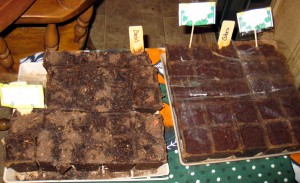 The cukes are 3-4″ tall and growing fast; starting to "harden" them with 1 hour a day outside beginning today
Everything else has sprouted. Peas (outside) are very small, but coming up. Tomatoes look good.
April 18 update
This week:
On Monday, I transplanted the cucumbers into the garden. Of 5 plants, 2 have gotten completely munched by something. (Must be bugs?) The others look less than healthy, but I'm spraying with soapy stuff and hoping for the best.
The tomatoes have been transplanted into bigger cups and are living inside Tumbleweed for now.
The peas are positively thriving.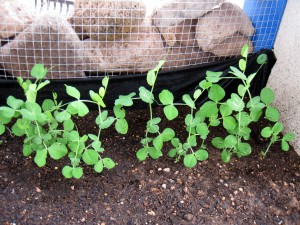 June 2 update — All of the plants that I had planted in the little trays at the rental house and then planted outside have now died. I don't think they were hardy enough to survive despite my "hardening" attempts. That includes all the first round cucumbers, which were all munched to the ground immediately upon being transplanted outside. However, I have now planted the same cucumber seeds directly outside and they are doing great. They don't even look like the same kind of plants I planted inside. Weird.
I also kept some of the tomatoes and eggplant inside but moved them to the new house. As soon as they got here, they seemed to go into hyper-growth mode. I am guessing that is because there is so much sun here (none in the rental house). Either that or just good karma. :)
The peas continue to thrive and have blossomed last week. And this week, there are actual peas! The hot weather doesn't seem to be bothering them. I suspect it is because the nights are still quite cool (50s-60s even when it is over 100 during the day).
This week I also planted new lettuce and arugula, both of which we had very good luck with last year. I also planted beans (new) and watermelon from seeds we got from Jerry's watermelon.
June 13 update
We have peas.
I planted my strongest tomato plant (10-12 inches high) outside in a hanging tomato planter, and it died within 24 hours. Too much hot wind. The rest of the tomatoes are staying inside until we get some kind of covering for the greenhouse to knock down the wind.
The beans and cucumbers look good. One cucumber plant has a bloom.
6/17/10 – I have planted watermelon seeds twice outside the greenhouse (they need a lot of space), only to have them dug out by quails. They were leaving 6″ holes in the ground where the seeds were. We finally caught them doing it.  So now I'm planting in cups in the greenhouse with hopes of transplanting outside once they sprout.
With the heat and wind, I'm worried about transplanting any of the other tomato or eggplants outside. We have ordered some kind of cloth to put on the outside of one end of the greenhouse to knock down the wind. Stay tuned.
7/8/10 – After having quails scratch up all my watermelon seeds, I am trying germinating them indoors. Apparently, I missed the part of school where you germinate seeds in a damp paper towel. Brad has filled me in though, and I think this is pretty cool. After the stage below, I've transplanted in little dirt pots.
7/25/10 – The garden is doing great. We've eaten peas and green onions (Brad's) several times, as well as lettuce and arugula. Beans are growing now, and it won't be long until we are eating those.  The cucumbers are blooming like crazy, but no cukes. Brad suspects a pollination problem, so we hand pollinated with q-tips. The first tomato blooms are happening, and the eggplants look healthy.

Aug. 16, 2010 – Our second harvest of beans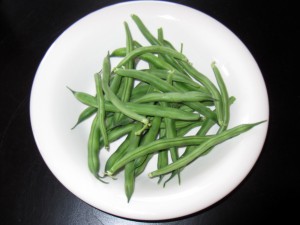 August 25, 2010 – Our first harvest of cucumbers!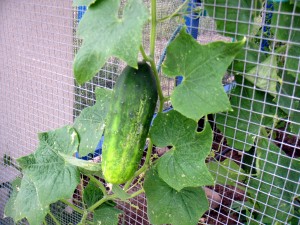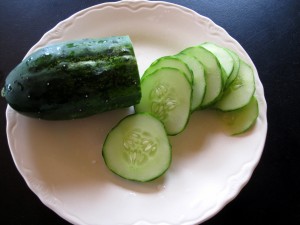 11/28/10 – This picture is the last harvest for this year. It's frequently below freezing at night now, and everything is dying off.
Since August, we have enjoyed lots of cucumbers (these probably did better than anything), beans, and some tomatoes, which were delicious if not plentiful.
This was the only eggplant we harvested this year. We made salsa with the green tomatoes.