We had a productive, short trip to Portal this week, accomplishing three main things:
Moving all our books
Getting a storage space
Meeting with our architect
On Wed., while I was coming home from NC, Brad rented a truck and loaded all of our book inventory from work, our personal book collection, and some files. It was a total of about 3000 pounds of books. I got home around midnight Wed. night. We had planned to leave early the next morning, but I ended up having to stop by the office, and we didn't leave until about 8:30.
It was a long, uneventful drive in the truck. We hit traffic in Phoenix and didn't get to Willcox, where we'd be spending the night, until about 8:30 at night.
The next morning we got up early for a busy day. We started at the storage facility in Willcox at 7am. The space we'd planned on renting looked good, plenty big and easy to get an 18-wheeler moving truck into with our furniture.
From there, we drove a little over an hour to Portal. As usual, when we made the turn onto 80 and started seeing the mountains, I began to relax.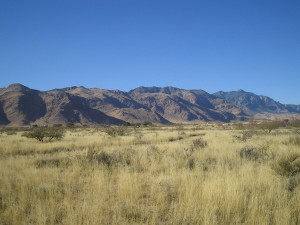 We got onto the property and started to work on our storage container before the architect was scheduled to get there at 11. We swept it out and started painting. It was a little slow going, and Brad was wondering if we'd have time to finish everything we wanted before dark.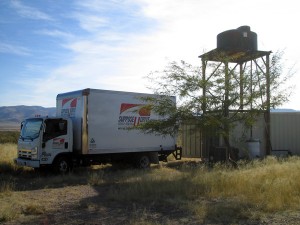 Our architect, Judy, got to the property right on schedule. We really liked her. We talked about various issues, like the placement of the second slab, room layout, windows, etc. She is going to bring some good experience and perspectives to the project. She also knows a couple who is doing their house in American Clay and may be able to get us included in a "plastering party" to help and see how it works. I felt really good after meeting Judy and signing the contract to officially begin the design process.
Some interesting notes about Judy: She grew up around Willcox and Douglas and knows the area. Her family is from Ohio, and she even follows the Browns. (Go Browns!) She has done some volunteer design projects overseas, including working in Kenya.
Back to the storage container, we resumed painting. I also started rearranging the many cartons of books to begin unloading. Once we started unloading the books and stacking them in the container, it went quicker than we thought. Having everything well organized helped a lot. By 2:30, we were pretty much done.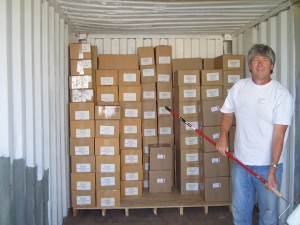 Then we headed off to Bill and Chris' to put up the mailbox. That didn't work out as well. First of all, Bill had spent all night driving a family member from California and didn't seem to be expecting us. Then Brad told me that he'd mentioned that we needed a locking mailbox, which the one we had was not. (I don't even think they were selling locking mailboxes in CA. I'm not sure, but we decided to just put up the one we'd brought for now and replace it later. I felt depressed about the whole thing.) THe actual process of installing the mailbox was more involved than we'd imagined. We had brought a 4×4 post and planned to borrow a post-hole digger from Bill and put it in. What Bill actually did was to drill a large hole with his tractor and augur, drop the post in, and then cement it in place. The cementing process was interesting — he dumped a bag of dry cement in the hole, put in the post, filled the hole with water, and used a long metal rod to help the water penetrate. We were grateful for the help and now have a mailbox in place, even if it isn't the ultimate one that will be there.
We got back up to Willcox around 7 or so, showered, and headed to the railroad car restaurant where we'd eaten before. (I couldn't take one more truck stop meal.) We had a nice dinner and were asleep before 9. Brad woke up at about 3 and couldn't sleep anymore so we got an early start back home.
Fourteen hundred or so miles later, we are home.