March, 2009
...now browsing by month
Sunday, March 8th, 2009
Friday was an uncharacteristically overcast day here. Brad and I worked late, planning for a busy weekend of leisure (no work) and for an upcoming extended period of travel for me. When we went to bed, the wind was blowing hard. Brad went right to sleep, but I, uncharacteristically, was wide awake. The wind began blowing harder and harder, shaking the whole house. I was amazed that Brad kept sleeping through it. (He does not like wind and is generally a pretty light sleeper, unlike me.)
I eventually got up to finish a book I've been reading. As I listened to the wind threaten to rip our house apart, I hoped that this was the big and terrible winds we'd been warned about. (I thought of my feelings during the first earthquake I was in in LA — I hoped it was a "big" one or I didn't think I would survive long there. Fortunately or not, it was a big one, the 6.7 Northridge quake that broke a freeway in half and shattered glass and brought down bookcases in my apartment.) We have been told that the winds here sometimes drive people away and/or make them lose this minds.
By 3:30am, the winds subsided and I was finally tired. Good thing since my alarm was set for 6am for a big day Saturday.
Saturday, we went to Tucson to see our first spring training game — the Angels vs. the Diamondbacks. We also planned to do various errands and shopping. We left a bit later than expected (I really couldn't get up at 6), but got into Tucson by about 10. After picking up some prescriptions and doing some other shopping, we headed to Tucson Electric Park for a 1:00 game start.
The game was great. The park was very small, and we had seats just 10 rows behind home plate. It was a gorgeous day, sunny and and in the high 70s.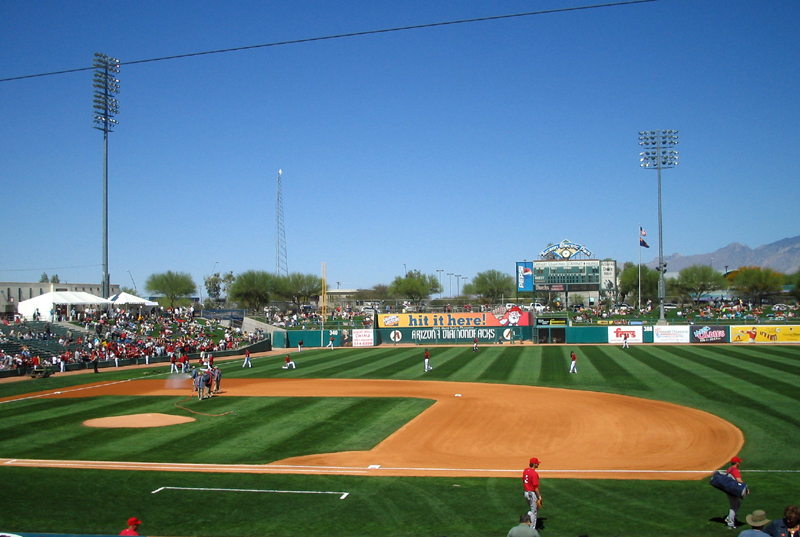 The Angels won 9-5, with a great performance by Coeur d'Alene native Matt Brown, among others.
After the game, we went out for a big sushi dinner. Then we shopped at Trader Joe's and headed home, arriving by 10. It was a great day.
And for those of you interested, in AZ, we neither spring forward nor fall back. So now we are on PST again. This also makes our time now an hour different from that of NM, just a mile or so away. This has been the source of much confusion for me in the past.