Since the snow before Christmas, we've had another snowfall (this is not seeming like the desert southwest), and it's been cold — low 20s at night and not out of the 40s during the day. With a brisk north wind, that's too cold to stucco, so we've been working on solar and other things. One of them is the woodworking.
As you may remember, we began a test run of building our own doors just before Thanksgiving. It was a project that we weren't in a huge hurry to finish, but now that the batteries are in their house and the weather is cold, the battery house needs a door.
After many rounds of sanding, I proceeded with staining the door. I used Minwax wood conditioner first (which I really liked) and then an oil-based stain. It went on very nicely. Then we began working on mounting the door hardware and hanging the door. (In hindsight, I would have done all the hardware work before even staining. It didn't make a huge difference, but I did have some touch-up work to do afterward.)
First, Brad used a template to rout out the space for the hinges, both on the frame and on the door itself.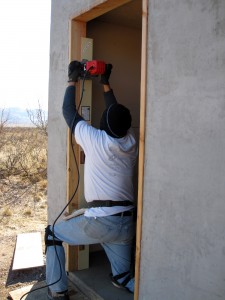 Then we did a test hang (the first of many) to check the door height and width. We needed to trim just a bit off the top and the bottom, which went smoothly.
Then we worked on the width with a planer. This not only narrowed the door to fit, but also put a bevel on the door so it would close right.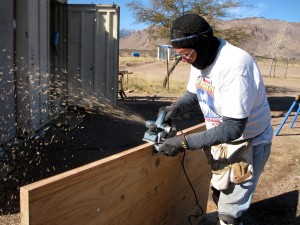 The process here is first to plane and then to test hang to check fit. Repeat, repeat, repeat. It took many, many times to get it just right.
Then for the last steps of several coats of varnish and installing the lock. Here is the varnished door.
I also stained and varnished the door frame, which is really looking nice. (It's been fun to finally do something that I had some pre-existing expertise in — thanks Dad!)
You'll have to wait to see it hung with final hardware … it's taken me so long to get this posted that we've now commenced stucco'ing. And with stucco started, everything else will be on hold for a while.