There have been almost no occasions on which I have felt emotionally overwhelmed during this building process. In fact, all the times I can think of were during the frustrating design phase, not construction. As you might guess, though, today was a tough one for me. It didn't help that the wind has been blowing non-stop at unbelievable speeds, which tends to make everyone crazy.
This week has been one of milestones. Now that we are almost into April and we are so close to the finish, I have decided that it is time to get a bit assertive about pushing through the interim steps to getting the occupancy permit. And while in the business side of my life I am very assertive (some might phrase it differently), I am not really much that way in my personal life. It's neither comfortable, nor natural for me.
This week, the priority interim steps have mostly been plumbing-related. We did have a guy out for a few hours (over a few days) to help us finish up, which has been inordinately helpful. And today we finished the rough plumbing (though not without a few bumps in the road).
We also got the last of the holes cut through the roof, including the big one for the fireplace. Ugh. This was hard for me to watch, but it came out great.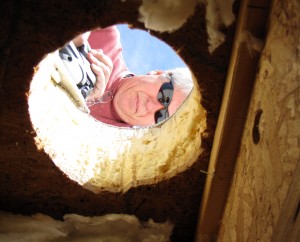 We also got a new vanity (one thing we decided not to build ourselves) and unpacked it out today to check where the piping will go.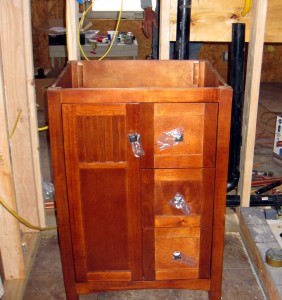 We'll tile the counter on top to match the shower, and I'm thinking of a bright Talavera sink, maybe like this one. Tile…yes, that's another thing still on the list. But at least it's not something that has to be done for the next inspection. And we did get glass block for the wall last weekend. It's really beautiful.
Also today we ordered drywall. That's cause for celebration in and of itself.