We have had a lot of fun this week exploring various local sites (some of which I listed here before) with my dad.
Highlights included:
This was a place I'd passed on the highway many, many times and really wanted to visit. With Dad's interest in Native American history and this being on the way to Casa Grande, the opportunity was ripe.
This was a very nice museum and separate art gallery, both housed in beautiful colonial Spanish buildings. The works here belonged to the private collection of William Fulton, a businessperson and later archeologist, who moved to Texas Canyon, AZ to further his studies.
These ancient ruins are from the Hohokam culture and feature the "great house," a four-story high structure housed under a modern shelter to protect it.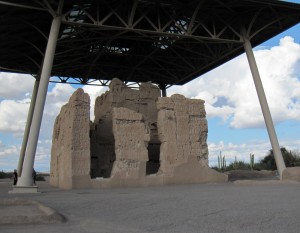 Fort Bowie (
)
We'd planned to do Fort Bowie in the morning and the Shakespeare Ghost Town in the afternoon, but Fort Bowie ended up being a bigger adventure than we'd thought and we spent all day there.
We hiked to the fort (though I now understand that you can drive there), and it was a beautiful hike through amazing country to get there. After we hiked back (different trail…well worth it), we were famished and had a great picnic lunch.
This was the state park where we camped on the first night of our two-night trip up to Bandelier. It features a large number of upright rocks made from eroded volcanic ash, one of only six geologically similar features in the world.
This place was awesome! Just about every camp site was great. We got in just before sunset and left the next morning, but we'll definitely be returning to check out the surrounding trails and to spend more time here.
Bandelier National Monument (
)
This site of Ancestral Pueblo dwellings has been on my to-do list since the first time we went to Albuquerque, and it met all my expectations plus some. Brad and I even hiked up to the Alcove House, which features a 140 feet climb up four ladders.
In addition to the fascinating ruins, we saw lots of beautiful fall foliage. And the drive both into and out of the part was stunning.
We camped at Jemez Falls campground (which was great) and also enjoyed a nice breakfast in Jemez Springs at the Jemez Stage Stop. (This seemed like a fun little burg to spend a weekend or something.)
Petroglyphs National Monument(
)
We snuck in a visit to the petroglyphs too on the way home from Bandelier. (These pics are from the last time Brad and I were there.)
We also did a few canyon drives (Horseshoe, Price) while Dad was here and ate a lot of good food.