The weather here is lovely. It's relatively cool, and we even had more rain yesterday.
The garden is at its peak. Here was this morning's harvest.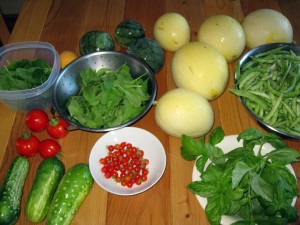 My fall lettuce, arugula, and tatsoi are coming in. The tomatoes are thriving (including finally the heirloom Georgia streaks, which are beautiful), and we've finally harvested honeydews. Sweet and delicious.
Brad put in about 200 garlic this week and will put in the other half next week.
We are saving lots of seed and getting more excited about starting a seed library here.