We love having visitors and invite lots of folks to come see us. This post is some stuff you might want to know if you're considering a visit.
Feel free to submit your own questions below, and we'll add them to the list.
---
A: We're in the extreme south-east corner of Arizona, about 1 mile from the New Mexico border and 45 miles north of the Mexican border. From I-10, we are about 45 minutes south.
---
A: If you're flying, we're 2-1/2 hours from the Tucson airport, and 3 hours from El Paso. We're generally happy to pick folks up at the airport if you like.
If you're driving, email us for directions. We aren't on Google maps, and most GPSs don't seem to map well here. (And whatever you do, don't take the exit marked "Portal" off highway 10!)
We do live on a dirt road, but it is easily passable (to our house anyway) with a standard vehicle. 4WD and/or high clearance is recommended for trips into the canyon, but we have a truck for that.
---
A: It's rustic, funky, and remote. I often say that, and then folks come and say "Wow, I didn't know how remote it was here."
What does "remote" mean in this case? In a two or three mile radius, there are fewer than 10 other houses, the nearest of which is about 1/2 mile away.
There is no cell coverage. (We have great wi-fi though.)
If you want to go to the movies or a mall, it's over an hour away. (See below.)
It's also very beautiful. We are in a valley between two mountain ranges and just a couple miles from national forest land that is breathtaking. It is quiet and peaceful here. Obviously, we love it.
---
Q: What kind of facilities or amenities are there?
A: Not much. The closest real town (with things like a grocery store, gas, restaurants, etc.) is about an hour away.
Closer to us, there are 2-1/2 restaurants. We occasionally eat at one of them (but we are food snobs).
We mostly have what we need here at the house.
The closest medical facilities are about an hour away. If anything serious happens, they efficiently helicopter folks out to Tucson.
---
Q: Is it true that you are "off the grid"? What does that mean?
A: Yes. In this case, "off the grid" means we are off the electrical grid. We run on solar (with propane for the stove and hot water). We have a robust system, and if you didn't know we were solar, you wouldn't guess it. This also means that when there is a storm and everyone else's power goes off, ours doesn't.
For water, we have our own well. The water has been tested and is cleaner than most "city water."
We also have a septic system.
We haul our trash to a truck that goes to the land fill. No trash pick up here. :)
Because we are on solar, we don't have air conditioning. With ceiling fans and windows, it's not too bad though. (See below for more info.)
---
A: We find it the ideal place to rest and relax, enjoy the land, and not do much of anything.
We often enjoy doing things like sitting around an outside fire eating, outdoor movie nights, and reading a good book.
There is a lot of great hiking nearby. It is a world-class birding locale (we're not really into birding, but know the spots to go and can even arrange a bird guide if you're into that). The area is also well known for star gazing because of the lack of proximity to city lights and local light restrictions. (If this is of interest, make sure to come when the moon isn't full.) There is horseback riding and other sites to see and more here.
We're happy to take you around to see the sites, or if you'd rather just be left alone to explore, we're good with that too.
---
Q: What are the accommodations like?
A: We have a very nice separate guest house (attached to our office). It has a full bed and its own bathroom and kitchenette, as well as more space for sleeping if you don't mind sleeping bags or a couch.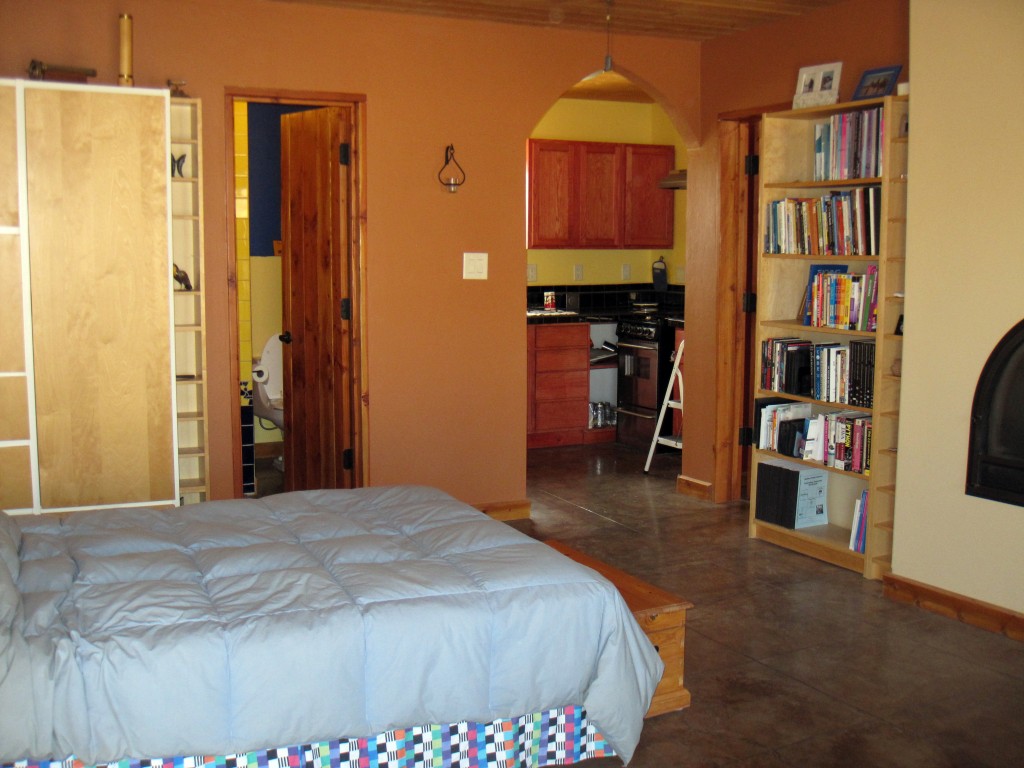 We have a separate "main house" just a few feet away.
---
Q: When is the best time to visit? What's the weather like?
A: Spring and fall are lovely. We are partial to the early summer when the monsoons happen. (Hard to predict, but sometime in late June/early July and through as late as August.)
Summer can be hot, though it is a "dry" heat. We get temperatures into the low 100s, but it always cools off in the night. By opening the windows at night and closing them and drawing shades during the hot part of the day, the inside temperatures are fairly moderate, but we do not have air conditioning. If you don't deal with heat well, summer may not be the time to come.
Winter can be quite cold. We often get temperatures below freezing and sometimes even hovering slightly below zero. We get snow a few times a year. To those of you in other harsher climes, it may not seem harsh, but it does get cold. (Between Nov. and Feb. the sandhill cranes are nearby which is a sight worth seeing.)
Other than that, we sometimes get ferocious winds (especially in the early spring, but they could come anytime). It is not unusual to have gusts over 60 mph. The winds are the thing that drives some people out of this beautiful place.
---
A: We are vegetarian, but if you'd like to bring your own meat, feel free. Karen loves to cook, and even the most diehard meat eaters haven't complained about the food. Just let us know about any allergies or things you don't like. We also take requests.
And we love wine.
---
Q: What else should we know? What about snakes?
A: Yes, there are snakes of all kinds. We see maybe 10 or so a season (they're only out when it's warm) and have never had a problem with one — UPDATE: ok, we had one small problem with a snake, fluke event but we believe in full disclosure :) .
There is also diversity of other wildlife: birds, bugs, lizards, rabbits, deer, an occasional bobcat.
Children are welcome. Pets as well.
We don't smoke; you can smoke outside if you wish.
What to bring: sensible walking shoes, a jacket, camera, binoculars, lots of sunscreen
What not to bring: guns
---
Q: What about the border situation?
A: Contrary to what you might see on "Border Wars," there isn't much excitement here on the border. It's pretty remote and boring that way.
On a few occasions, we've encountered a few migrants. Mostly, they seem to be nice folks looking for food or water. Of course, there are others here who tell a different story (one that sounds suspiciously like a "Border Wars" script), but that's not what we see.
Driving here, though, you are likely to see many Border Patrol vehicles vigilantly patrolling the area. We frankly find them a bit annoying (except when they are on horseback which makes them inexplicably charming to me) but mostly they are harmless.
---
Q: We know Karen, but what's Brad like?
A: This is kind of a joke question, but really Brad is much nicer than Karen and easier to get along with.