June, 2009
...now browsing by month
Sunday, June 21st, 2009
As much as things went badly yesterday, today they went splendidly.
We got up 5 again to stain, and today the weather was clear. We set out to the property and began work. I'll let the pictures and movies tell the story. (One minor sidenote: The rain seems to have brought up some of the Quikrete. We had to scrape and wash down the slab *again*. So Quikrete wasn't the perfect crack patcher either. Maybe there isn't one. Anyway, it's good enough.)
[coolplayer width="600″ height="400″ autoplay="0″ loop="0″ charset="utf-8″ download="1″ mediatype=""]
Staining the Slab
[/coolplayer]
(The color on the movie is a bit dark and orange. This picture shows the actual color.)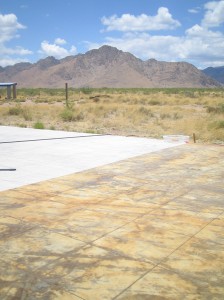 We just love Soycrete. It was so easy to work with and gave beautiful results.
We also did the final stucco coat on the greenhouse columns. This came out really nice too. For me, a lot of this was a practice run for the house. The color turned out really nice, and I would definitely use something similar for the house. (We will be going with a slightly different stucco, one that is plasticized, which we discovered since we bought this first batch, helps prevent cracking).
I finished the stucco two different ways. The first was more of a rough finish. The second was smoother (achieved by misting and sponge troweling it pretty aggressively). While we liked both, I think we'll probably go with the smoother look. We may do either a different texture or even color on the "architectural details." (Those are the parts of the exterior walls that stick out a bit to look more interesting.)