May, 2009
...now browsing by month
Monday, May 25th, 2009
Before bought our land, we asked the building department about the existing slab. They went out of their way to assure us it was permitted and that there were no issues. Despite their assurances, I've worried about it.
After we bought the land, they stopped with the assurances, and they made us dig a couple of inspection holes. I expressed my concern to the building department and this time their assurance was that they'd never make us tear up the slab. At the worst, we'd have to dig all new footings around it. Ugh.
Since we have a building permit, we're entitled to inspections now. I called them up to get the slab inspected. They told me that they'd also be inspecting the setbacks (how close you are to the property line) and the rough plumbing… you'd need x-ray glasses to do that, but that's ok with me.
One concern was that I really wanted to be there, but I had to plan for the possibility of not being there. It's been raining and there's no protected place for the permit and plans. (They assured me that I would fail if either were missing.) I put together a holder of sorts from some 2″ PVC. They did say the inspector would call in the morning and give me a time estimate. He did and I was able to meet him.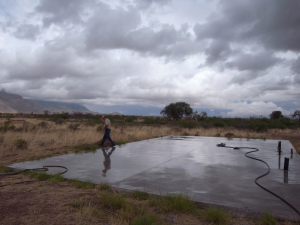 I arrived at out property about thirty minutes before Dave (today's inspector) arrived. I fussed and worried about how things would go. As soon as Dave got out of his truck, the rain started again and we ducked into his truck to look at the plans. No problem with the setback. Dave said he remembered inspecting our slab back when Dan was the owner. He looked the slab over and measured the foundation (where we dug it out) and said it was fine. He looked at the pipes sticking out of the concrete and gave them his blessing too. I breathed a sigh of relief and started asking questions about the future.
I just wanted to be sure, and it's true, the next inspection isn't until after the walls are up, the i-joists are in, and the SIPS are placed for the roof. Even the interior walls will be framed. Rough electrical will be done also. It seems like a lot of work without an inspection, but I think this is a benefit of the SIPS.
Karen and I have started filling the inspection holes back in. Karen's taken on the task of compacting the earth. I just throw dirt in the hole and water it. I like the way Karen does it better.
We survived our first inspection!
-brad