slab
...now browsing by tag
Monday, January 17th, 2011
Friday, January 7th, 2011
An owl landed on our water tower this evening. For those of you who have an idea of how big our water tower is, this picture gives you an idea of how big the owl is. Bigger than the bobcat as Brad pointed out.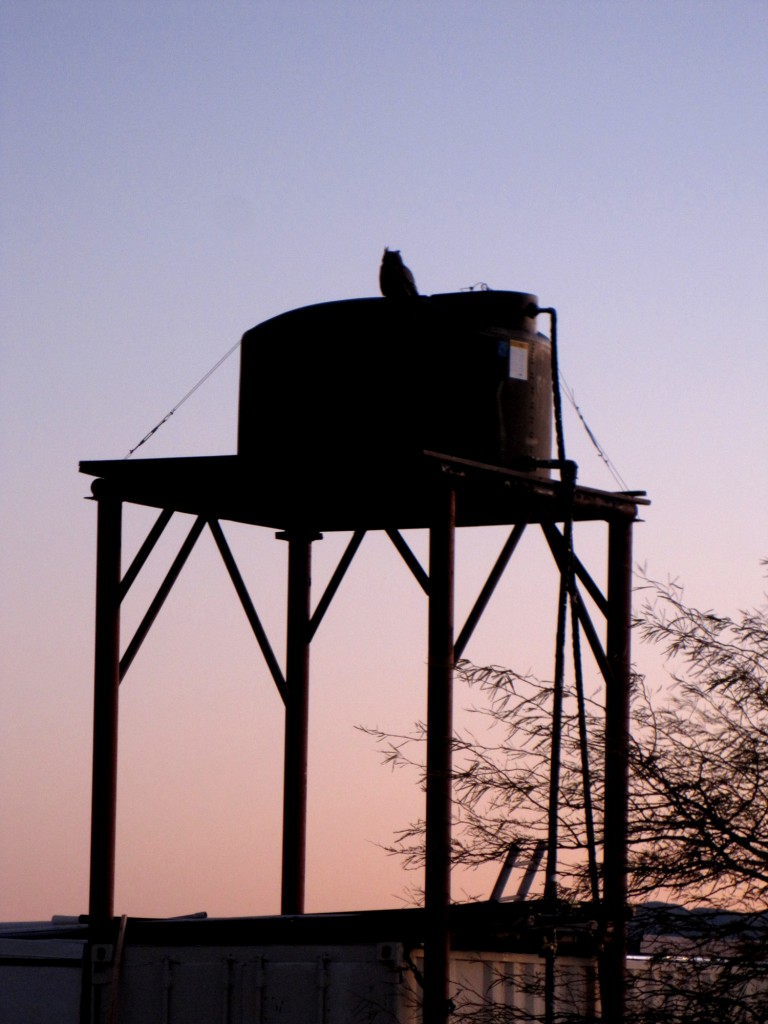 It's been pretty cold here this week (in the teens at night and 60+ during the day but cold when it's windy). I've been working on filling cracks in the new slab this week so we can cut it, which needs to be done before framing.
Other than that, we've been busy with the paying job…making ebooks, doing a social media project (can you imagine? someone paying me to tweet and facebook), and building an online course (which I'll be teaching in a couple weeks).
Friday, November 19th, 2010
Well, it's moving along towards winter. I just checked the outside highs and lows for the last month or so: 90f-27f. What about inside you ask? The high was 80f and the low 69f. That is very very livable. This is with no heat at all. So far, I'd say that SIPS are a great way to build and the results are excellent.
The fireplace is working now, but other than using it a couple of times for fun, it's off. I have noticed the floors are getting colder. This slab has no insulation so it's going to get colder and colder as the ground outside cools. I ordered some moccasins as my feet are naturally cold to begin with. (Since I was a small child I wanted moccasins… it's never too late. :)  One thing (temperature-wise) about this house is that the south most room is clearly the warmest and it gets colder the more you are to the north–not a surprise. So, here we are headed into our first winter with no concerns.
Karen has gotten us into something new:  Fil mjolk… or just fil (phil) as we call it. Basically, it's a bacteria that does interesting things with milk products. It's also like sourdough in that you keep it around as a starter. I have a friend who lives in Sweden where it's very common and very popular. He gave us a few tips, but mostly it's been Karen figuring out what to do with it. Most simply you put it in some milk and let it sit out for 12-24 hours, until it thickens. The longer you let it set the thinker it gets. Also, half and half produces a thicker fil. When it's on the thin side, it's nice on cereal and particularly granola. When it's thicker and it's more like sour cream or yogurt. (Unlike making yogurt, there's no heat needed… other than what is in your house.) Yesterday Karen made fil into cream cheese. Wow! It's so good. That was a little harder. You take fil that's ready to eat and then heat it. Once it's reached the proper temperature you let it cool and then put it into cheesecloth. The whey drips out and there it is… cream cheese – amazing! Karen's using goats milk too. This gives you a thicker fil and is not recommended as a starter. We've even made it from soy milk — I was surprised it worked, but it was tasty.
We are off to work on the farm in a bit. Pleasantly, we are still surprised with the things we are learning there. The lettuce is as lovely as it has ever been right now. Apparently it can freeze without obvious side effects. The basil (on the other hand) died and turned black after the first really cold night; a total loss. The tomatoes too died off, we are now learning all the things to do with green tomatoes. I used to think green tomatoes were just a local thing to do in certain parts of the country… now I know it's what you do when you have tomatoes that got green that you can't bear see go to waste. It's also interesting to see that the propagation house is being planted now for stuff that will go in the ground in January / February. Also, things like garlic and onions are in the ground now.
A small update on the solar power… I did adjust our panels for winter on the first of November. Karen's dad was here and gave me a hand. I can do it by myself, but it's easier and less risky and certainly more fun with help. I noticed some gain in power, but not a ton. I think our panels are pretty forgiving as far as positioning goes. Also, we are seeing a lot more sun than I was lead to expect. All the people I talked to and all I read said to count on 6 1/2 hours a sun a day in the winter-even where we are located. (Yes, we have not reached the solstice yet.) Right now, we are getting measurable sun (.5 KWH or better) for 10 hours a day.
I have picked out a generator. We're going with a model from Generac. I'm waiting a bit because I need to get one of the newest versions because they have a 2-wire kit that can be added on so it'll work with our solar equipment.
That's it for now except for a bit on the weather here… It very much seems that here there is almost always a time of day that is lovely. During the summer we often hide out when it's hottest, but the evenings outside are always awesome. Right now, the nights are a little cold, but the middle of the day is sunny and warm (75ish). In the middle of winter it's a lot colder, but it'll be warm inside and there's lots of sun in our office. Living the life…
Saturday, October 3rd, 2009
It is a rare day of steady, hard rain here. It's supposed to rain all weekend…very rare for Oct., we hear (except for in 1983, when Tucson got 7 inches of rain in a couple hours and it took out the freeway). While the weather quashed our plans to spend the day in Bisbee, it has given me a chance to catch up on some work and to do some writing and video editing.
It has been a busy week here. In addition to having Brad's mom visiting, we are taking care of 6 horses, 2 burros, 2 cows, and 4 dogs for our neighbors. Whew!
Oh yeah, and the main house slab was poured on Friday.
[coolplayer autoplay="0″ loop="0″ charset="utf-8″ download="1″ mediatype="wmv"]
Pouring the slab
[/coolplayer]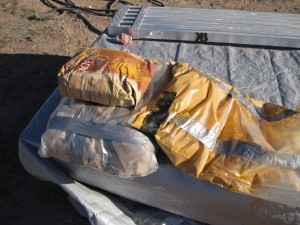 This is the color.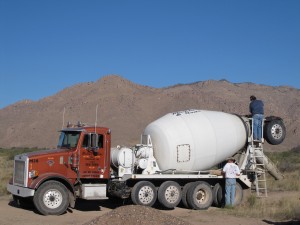 They dump it in the mixer, bag and all.
And here are the final results (well, not exactly final, but for today:):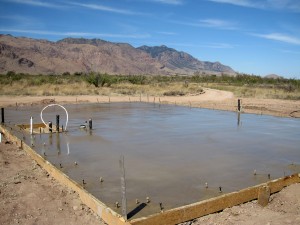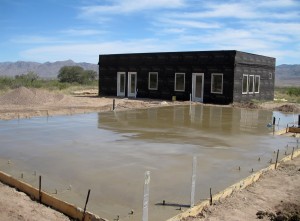 Tuesday, September 15th, 2009
I hated status reports when I worked at Toshiba and Canon, but this seems like fun.
Progress has been made on the slab for the main house. (I wish we'd give it a name. Perhaps a contest?) Scott (the guy doing our concrete work) put up the forms and dug the footings. Then he walked me through the rough plumbing. We didn't pass the first inspection because I (Scott too) was unaware that the sewer needed a pressure test. You have to clamp all the pipes but one closed. The one gets a pipe ten feet tall attached to it and you fill to the top with water. We passed once this was done. There was lots of digging and burying involved in this.
Scott has started adding the rebar, wire mesh, Styrofoam and other miscellaneous items into the mix in preparation for the last inspection before we pour. We're thinking we'll call for inspection on Thursday.
As for Tumbleweed, we started putting up the interior walls. Today we put up a wall 26 feet long by 8 feet tall at one end and 9 feet at the other end, made from 2×6 lumber. Whew! I wasn't sure we could lift it, but we could. :) It was a little tall and didn't quite fit under the I-joist. I used a floor jack to make it fit. :) Karen said that she will write about this later. (Stay tuned.)
We planted a few things in and around the green house. I planted mint and rosemary outside the green house. Neither seems to taste good to the local wildlife. The rosemary looks great and has been undisturbed. The day after I planted, I went to check on things and discovered the mint ripped out of its hole and about two feet away. There was a hole dug where the mint had been. Clearly, something (a deer I suspect) dug the hole to get at the water. I replanted the mint and added a watering hole for the locals. So far, so good. Karen and I also planted a few things in the greenhouse. I planted green onions. Karen planted lettuce. Little green spouts abound. We're starting small.
A great thing happened today. Karen found us a supplier of formaldehyde-free fiberglass insulation. The search for this product has been crazy. Johns Manville makes it but no one seems to carry it. You can find it on the Home Depot and the Lowes web sites, but nowhere in Arizona or New Mexico has it, and no, they will not order it for you. We've emailed people and we've called people. We've visited web sites… Finally Karen called Johns Manville and told them that none of the places on their web site carried their product. They came up with a new name… in Tucson. I called and they have it and it's reasonably price. We were getting ready to give up on this. It's going in the ceiling of Tumbleweed. Mainly it's to keep down the noise rain makes on the metal roof, however; another R-13 brings the roof insulation value to R-54. :)
One last thing… I don't think we ever put this up, but we made a movie of the walls going up on Tumbleweed. You can see it here: The walls go up
Oh… We still need knobs.
Monday, May 25th, 2009
Before bought our land, we asked the building department about the existing slab. They went out of their way to assure us it was permitted and that there were no issues. Despite their assurances, I've worried about it.
After we bought the land, they stopped with the assurances, and they made us dig a couple of inspection holes. I expressed my concern to the building department and this time their assurance was that they'd never make us tear up the slab. At the worst, we'd have to dig all new footings around it. Ugh.
Since we have a building permit, we're entitled to inspections now. I called them up to get the slab inspected. They told me that they'd also be inspecting the setbacks (how close you are to the property line) and the rough plumbing… you'd need x-ray glasses to do that, but that's ok with me.
One concern was that I really wanted to be there, but I had to plan for the possibility of not being there. It's been raining and there's no protected place for the permit and plans. (They assured me that I would fail if either were missing.) I put together a holder of sorts from some 2″ PVC. They did say the inspector would call in the morning and give me a time estimate. He did and I was able to meet him.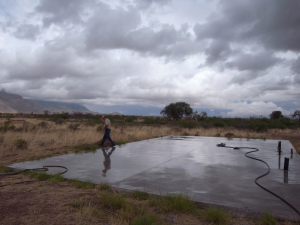 I arrived at out property about thirty minutes before Dave (today's inspector) arrived. I fussed and worried about how things would go. As soon as Dave got out of his truck, the rain started again and we ducked into his truck to look at the plans. No problem with the setback. Dave said he remembered inspecting our slab back when Dan was the owner. He looked the slab over and measured the foundation (where we dug it out) and said it was fine. He looked at the pipes sticking out of the concrete and gave them his blessing too. I breathed a sigh of relief and started asking questions about the future.
I just wanted to be sure, and it's true, the next inspection isn't until after the walls are up, the i-joists are in, and the SIPS are placed for the roof. Even the interior walls will be framed. Rough electrical will be done also. It seems like a lot of work without an inspection, but I think this is a benefit of the SIPS.
Karen and I have started filling the inspection holes back in. Karen's taken on the task of compacting the earth. I just throw dirt in the hole and water it. I like the way Karen does it better.
We survived our first inspection!
-brad
Monday, April 6th, 2009
This weekend (after spending hours of watching videos on YouTube — this really is the best thing that's happened to the DIY world since Lowe's) we did stain samples on the slab. We tried Desert Mountain and Espresso and really liked both.

One thing we learned was that we won't have to etch the slab first. (In the event that anyone else can use this information, the issue is slab porosity. Because the stain has to permeate the concrete, the surface must be porous. You can tell the porosity by misting water onto the surface. On ours, it immediately soaked right in, indicated a porous slab.)
We have also made a decision about what to do with that odd cabana that is already on our property. We are going to make it into a greenhouse!
To prepare for that, we began digging a ditch around the perimeter (more practice for my backup career). We'll bury screened fencing a foot r so deep to keep animals from digging in (hopefully). We're going to plaster the corner posts, which will give us some practice on plastering for the houses. since Stay tuned for more on this project.