bathroom
...now browsing by tag
Sunday, October 6th, 2013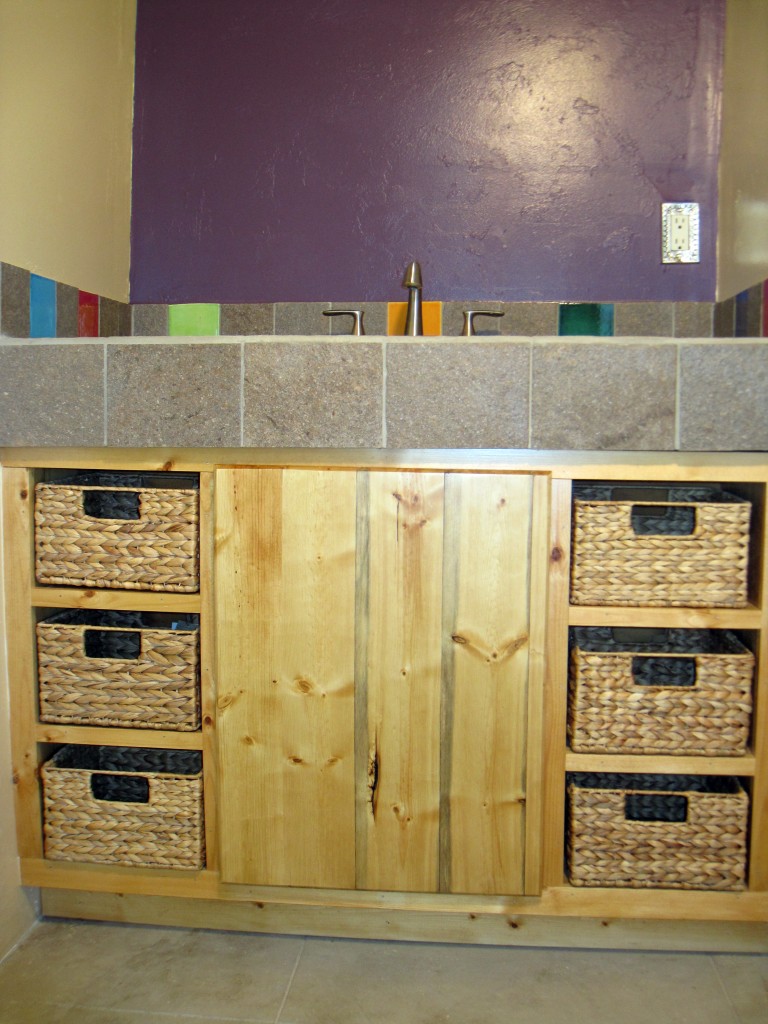 Sunday, September 29th, 2013
So this week were were planning to finish the bathroom. One day for the glass block wall. One day for the cabinets under the sink.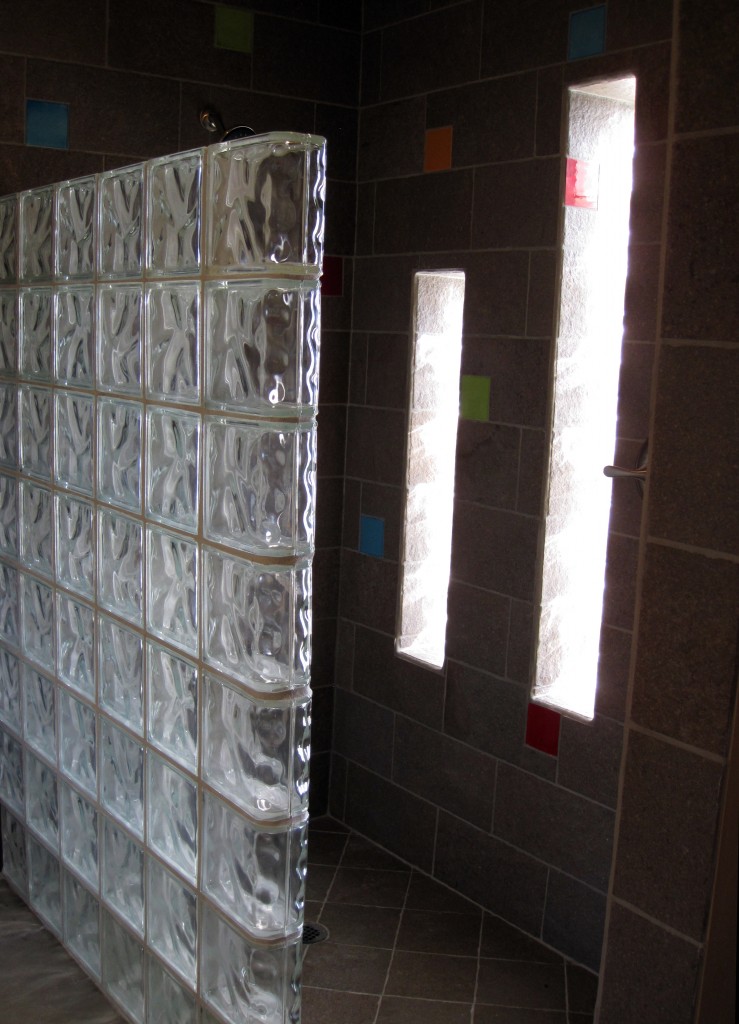 The glass block went great. Then we started to assemble the cabinets, and I had an idea. They don't show much so we were going to make them quickly and easily out of mostly plywood with some nice finished facing. Then I thought about how nice they'd look if they were made out of a higher quality finished wood (our ceiling boards/baseboard wood) that was tongue and grooved together. Also, I thought this would be a nice way to learn some cabinetmaking skills that we might use later in the kitchen. (We still haven't decided if we are buying cabinets, which would be faster, but more expensive and less nice, or making them, which would be time consuming.)
Four days later, we have a little less than half of the cabinet done.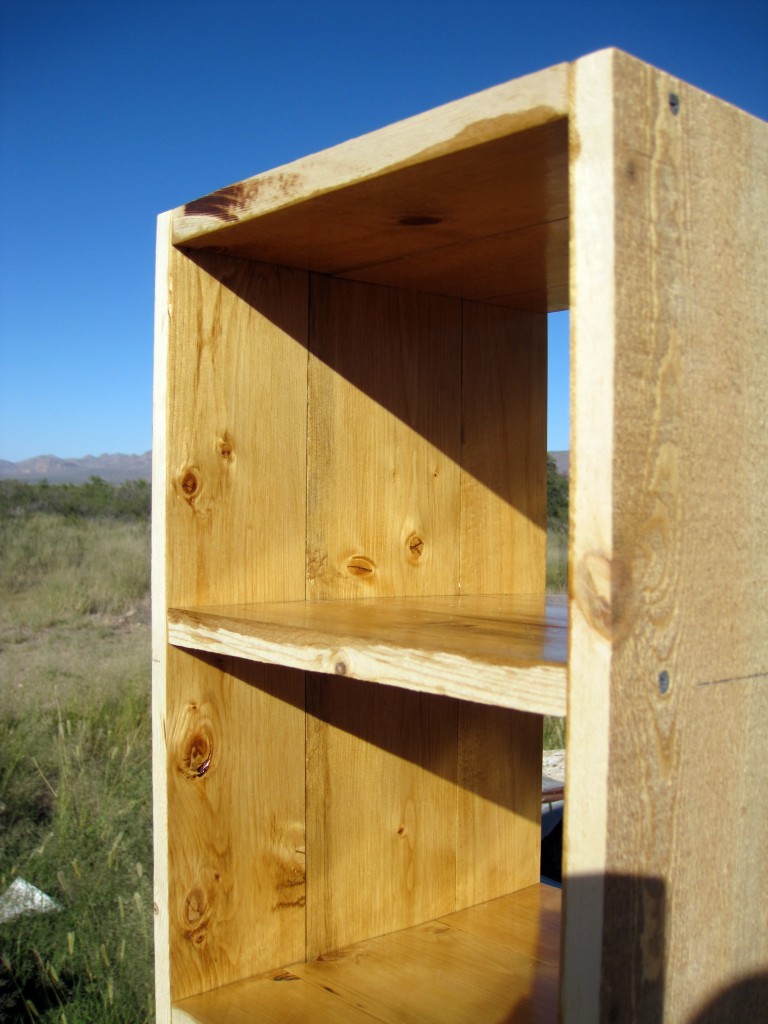 BUT it's beautiful. And we've learned some things. And they're really more just what I wanted.
Many decisions like this have led to a house that has a lot more custom work and is much much nicer and has more long-lasting craftsmanship than we'd originally planned. And has taken a year or so longer. I think it's worth it in the long run. But that's why it's taking so long.
Sunday, September 22nd, 2013
We pretty much finished the bathroom this week (except for the glass block shower wall and a few cabinets, which will be going in next week), and so with a visitor here, we spent the first night in our new house! (To be clear, we are still a long way from moving in….the kitchen remains to be done.)
Here are some pictures of the bathroom. I think the design turned out nice. (I really had a lot of uncertainty about this stone tile, but in the end, I love it.)
Yes, more purple walls! (Oddly, this is a google search term that often comes to our site.)
Sleeping in the new house was nice. It's quieter than the other house, which I didn't expect. The views from the bedroom are different of course, but nice. It will be even nicer with a kitchen and a few other things. :)
Thursday, December 29th, 2011
This week, it's finally warmed up a bit so it's back to work. We've begun wrapping and putting lath on the walls in anticipation of doing stucco. It's good to see the house becoming more waterproof.
We also put the glass block in the exterior wall for the bathroom. When Brad did the glass block in the guest house, I was traveling so this was a new experience for me.
It starts out very messy…lots of gloppy mud.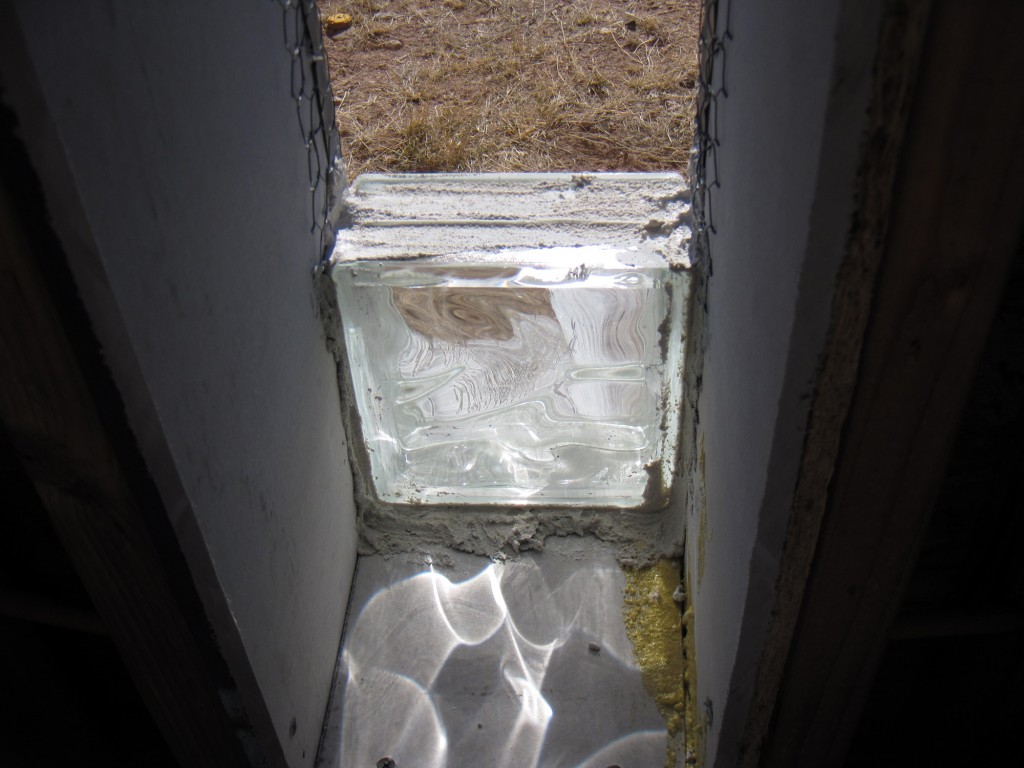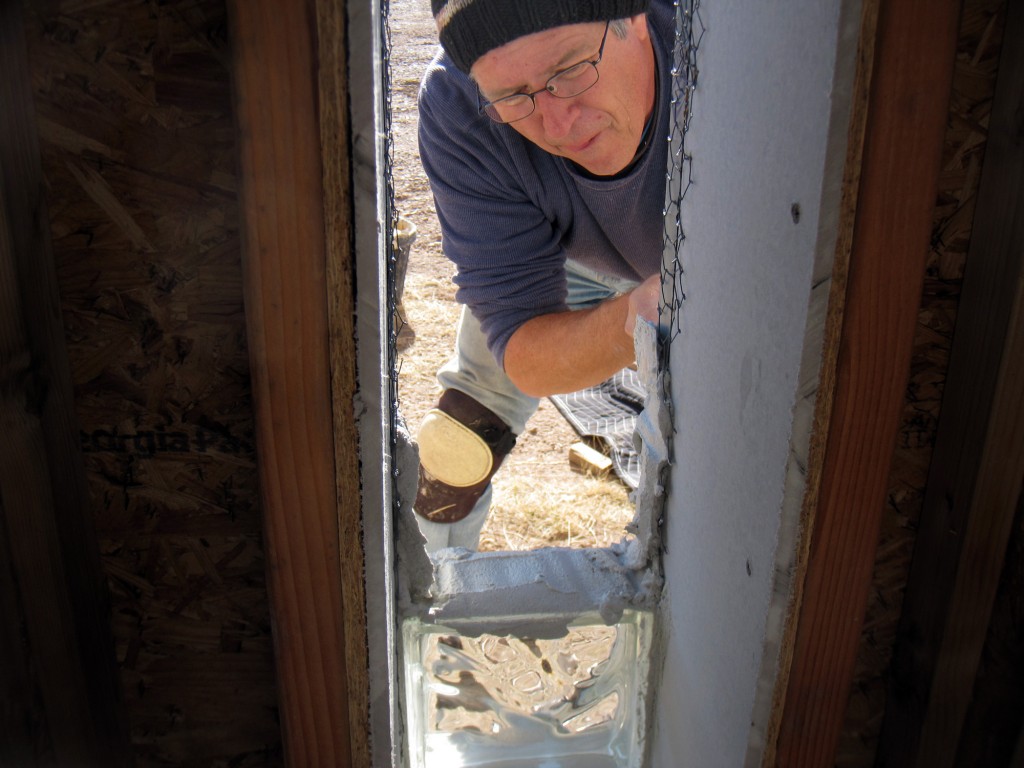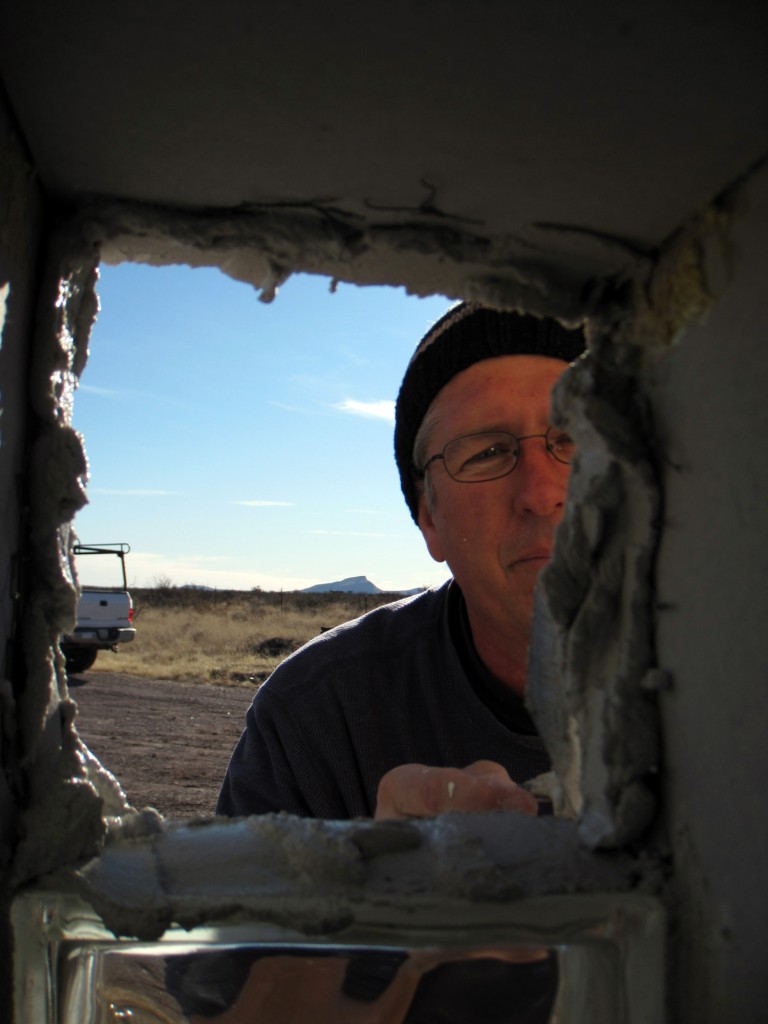 Gradually starting to look like something from the outside.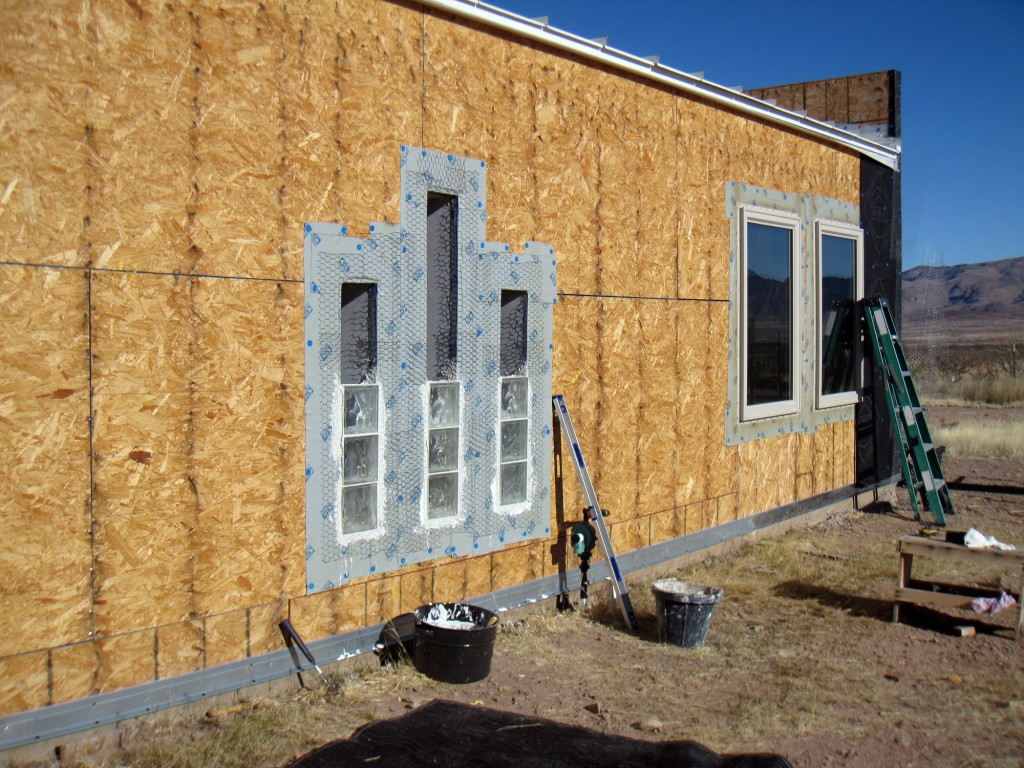 These pretty light patterns are just what I was hoping for.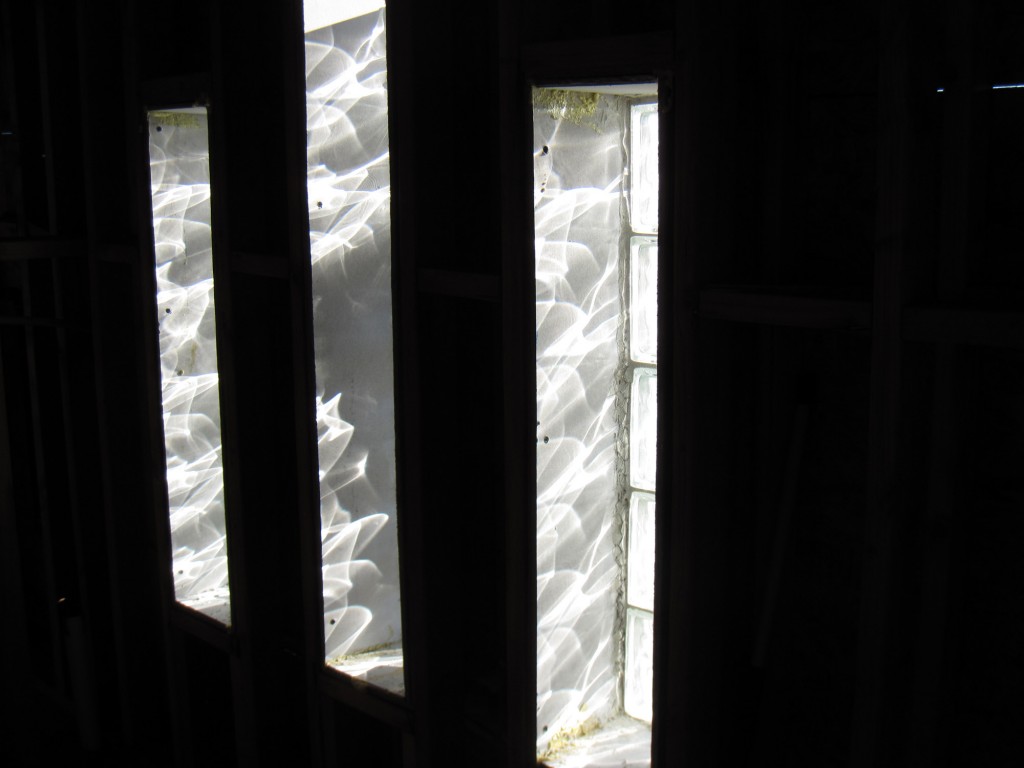 And here's the finished product, from the outside…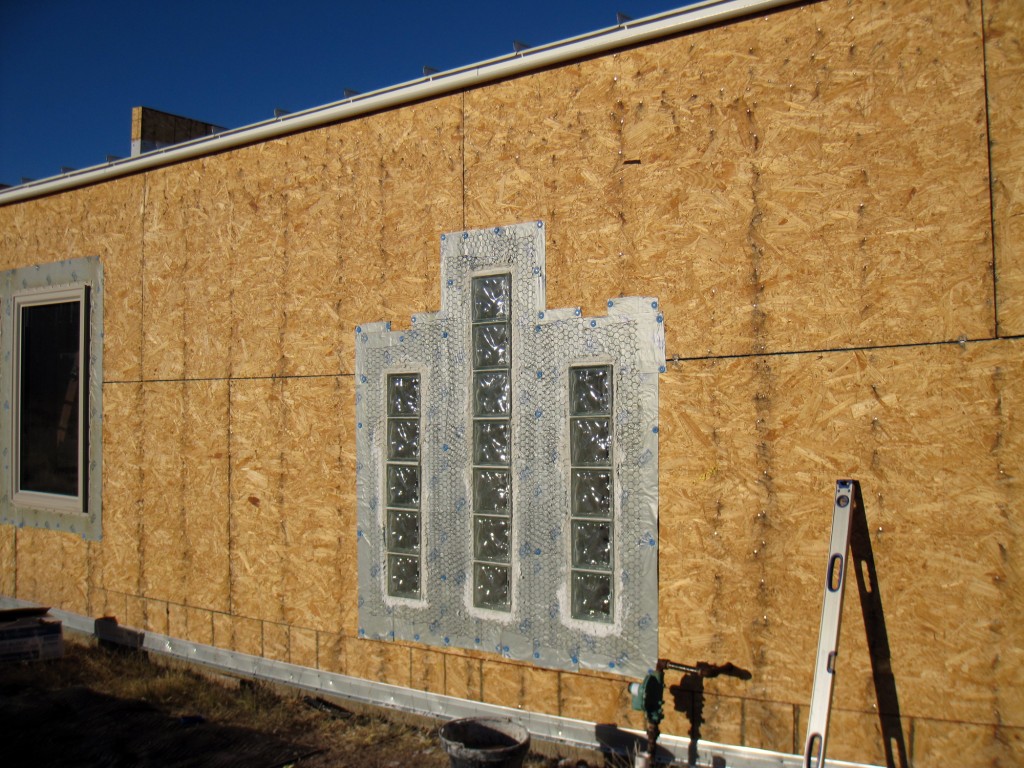 and the inside.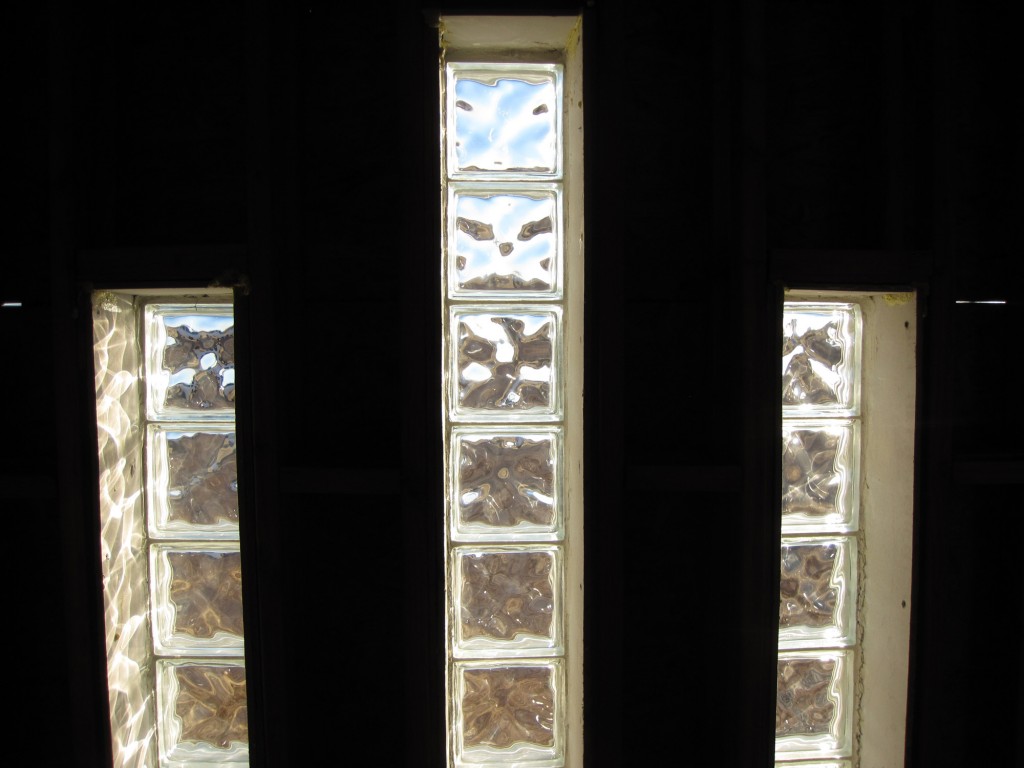 Friday, July 2nd, 2010
We've been living in the house for one month now. (Well, at least, Brad has. I've been traveling a lot, but am home for a while now.)
When I got home this week, Brad had the glass block wall up in the bathroom. It's really beautiful.
And these are the Amish hand-forged wrought iron hangers we got. They were inexpensive and look really nice. (The service of the place we got them from was great as well.)
My garden is doing well. We got the shade cloth up, and it seems to be helping with the wind. My peas are about to produce a second harvest, and they continue to bloom and grow taller. The cucumbers have blooms, and the beans look healthy. I am also transplanting some of my eggplant outside now.
The farm is good too. We go there every Friday to help harvest and continue to blog and add recipes and photos to their web site. This week we harvested lots of onions and garlic. On Sunday, we will be in the 33rd annual Rodeo July 4 parade with the farm. Should be fun. Look for pictures next week.
Saturday, June 26th, 2010