stucco
...now browsing by tag
Sunday, May 26th, 2013
Wednesday, May 9th, 2012
Finishing a big work project and finally getting some rain here gave me a chance to finish this video I've been meaning to assemble for a while now. (The actual work here has been done for weeks.) Enjoy.
[I always forget to say that this isn't the final coat. The second coat is much prettier and also much easier to do.]

Thursday, February 23rd, 2012
Wednesday, July 28th, 2010
Not that there aren't a thousand things still to do, but with the final stucco on, I'm calling it done.
We finished the final coat on the house today.
We also got the battery house done. Now my beautiful door has a proper backdrop!

While we were working on this, I noticed that some of the varnish on the frame is peeling a bit. Probably a result of being taped several times and the hot sun. (It's been almost 8 months.) I'll need to put another coat on.
This was my first real encounter with the dreaded "maintenance" issue of home ownership. I mentioned this to Brad, and he told me that the Golden Gate Bridge is continually being painted. It takes about 2 years to paint it, and by the time they finish, it's time to start again. Hmmm.
Saturday, July 24th, 2010
So we have two and a half walls done now and one and a half more to go.
The final coat of stucco is going on *much* easier than the first coat. (Good thing too, since it's hotter than hell right now. We've been getting up early to start around 6 and be done for the day by noon to try to beat the heat. I'm sure appreciating our lovely onsite shower this week.)
We're using an acrylic stucco (El Rey Perma-flex) that is supposed to flex and not crack as much in the extreme heat. It is very smooth to put on and the seems don't really show at all (unlike the first coat). The only bad part is that the stuff really sticks to everything. Our hands and arms are coated in it, and I have scrubbed my skin with a brush until I feel like I have no skin left.
One thing that is very nice about this product is that it comes premixed. No adding sand; no cement mixer; no shoveling or hauling loads of it. (I especially appreciate this since this was my job on the basecoat.) Our division of labor on this coat is that Brad trowels it on and I do the finish.
Putting the tile on has been interesting. I had this idea to put tile accents on the outside and found some beautiful dark blue Japanese tile to use. I wanted to put some small 1″ tiles inside our arched doorway and  a row of larger tiles along the top edge. I thought the arch would be really hard but the top edge would be easy. It was actually the opposite. The problem with the tile at the top is that it is relatively heavy and wants to pull off until it dries a bit. (After it dries, I don't think it's ever coming off.) We have had several strips fall off, whereupon they fall 12 feet and break, ruining the tile. We have extra though, and we're getting better at it.
The results look really great, I think.
Friday, January 15th, 2010
It's done!
The first coat anyway. It needs to cure and to give off its salts before we add the finish coat. It's been a ton of work and we both need a small break. We're very excited though. The stucco layer brings a sense of wholeness to the house. Very cool. Bring on the rains.
Monday, January 11th, 2010
"Architectural details" take a lot longer to stucco than plain flat walls. Lookin' good though.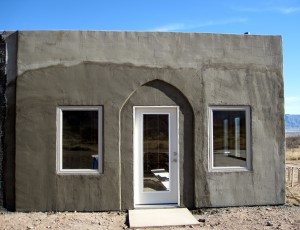 Several people have asked what the final color will be. (This is the base coat; there will be a finish coat over this.) It will be a light off-white (soapstone?) like the greenhouse columns.
And here's today's Buddhist thought of the day: "Chaos is inherent in all compounded things. Strive on with diligence. – Buddha"
And so we strive on.
Tuesday, January 5th, 2010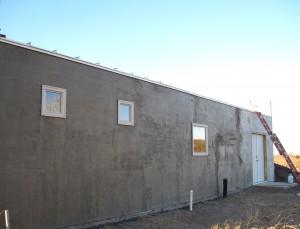 Friday, December 11th, 2009
Apologies for the dearth of electronic communications this week. On top of all my other hand problems, I slammed my finger (left hand, thankfully) in a car door this week, making typing not so easy.
So the storm that many of you saw blow through California over the weekend hit us just as we had stripped our house almost bare to repaper and prepare for stucco. There were gale force winds that blew off some of the little remaining paper that we thought could be salvaged. The wind was so fierce one night that it kept us both up all night. I honestly thought a big piece of something might come through the window at any moment.
I had to work at schools Tues. and Wed., but by Thurs. we were ready to attack the house again. In two days, we got most of the paper back up and more than half stucco netting up. We should finish this weekend and hopefully be having a lath inspection next week. Yay!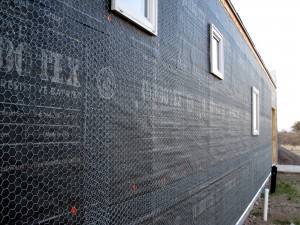 Here's an update from Brad on the solar stuff.
The first five columns to support the solar panels are poured. I need to put together a test in order to determine how far the back row needs to be from the front row so that we can properly adjust the angle of  the solar panels. Once this is done, we will pour the next five columns and install the first six solar panels.
Here is what a dried and peeled column looks like.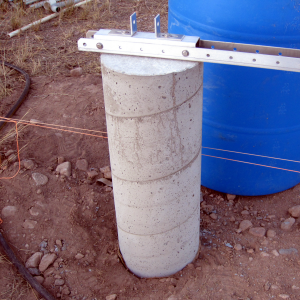 December 21st is the solstice and the day I need to measure the shadows in order to properly position our two rows of solar panels. I just realized that I need to measure in the morning, afternoon and evening because the sun is making an arc to the south this time of year.